Our Mission
RAW Storytelling calls upon the timeless tradition of true storytelling to help humanity find acceptance, understanding, and kinship one unscripted life story at a time.
Through our live shows, podcast, and workshops we create safe spaces where real people can share real stories that range from everyday anecdotes to bringing to those unspeakable life moments to the light.
At RAW, true stories aren't meant to be perfect. They are meant to be real. 🖤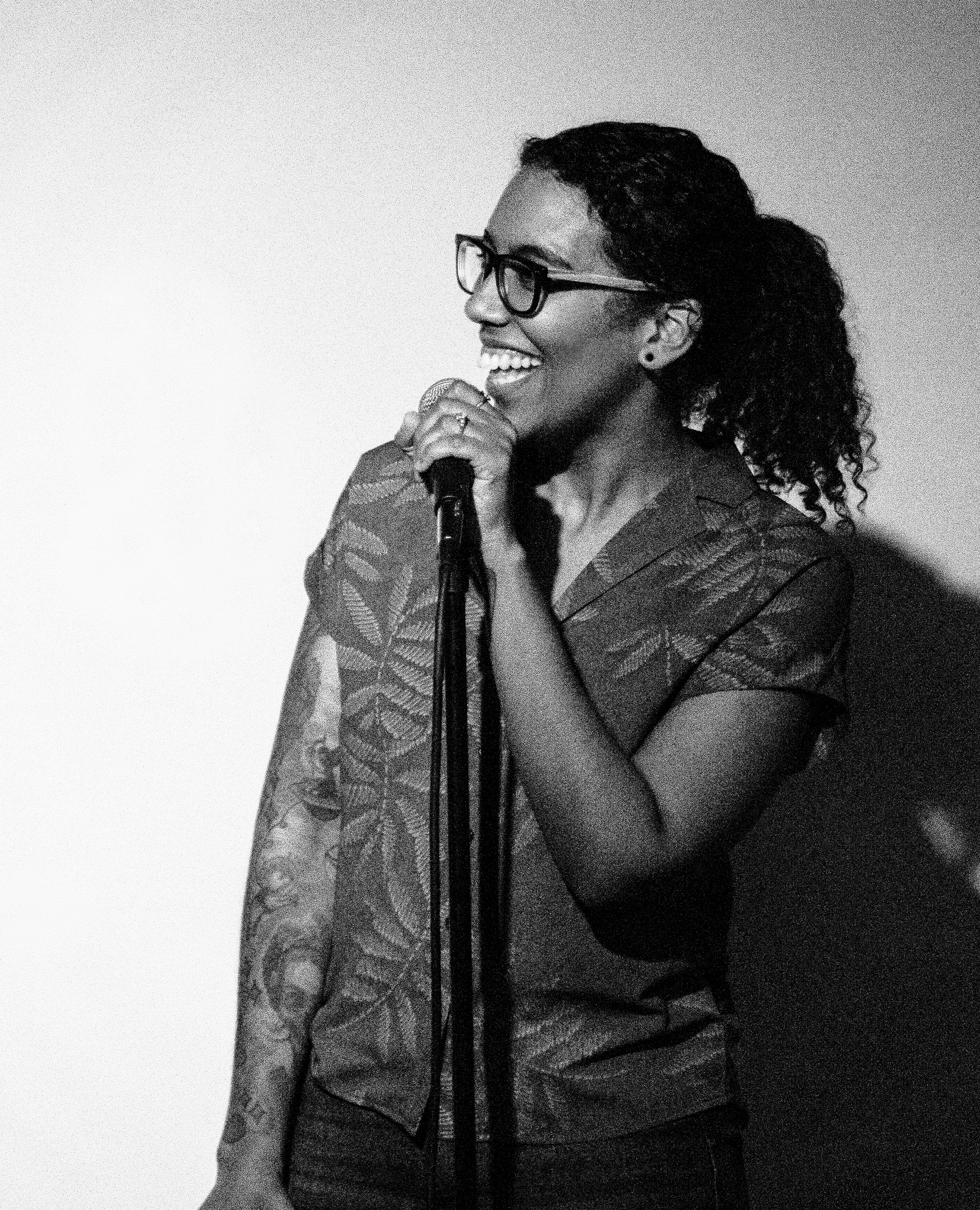 "There was a specific moment. It was the last story of the night. I stepped back and saw a diverse audience. Some were leaning in, others laughing, others with emotion-filled faces. It was then I realized this was bigger than me. This is what I was meant to do."
Enid Nolasco - RAW Storytelling & Witchcraft Branding
On May 12, 2017, I had the opportunity to be a speaker at the local chapter of CreativeMornings, an international breakfast lecture series. After my speech, I was asked: "What's next?" Not knowing what to say, I blurted out the first thing that popped into my head. An idea inspired by my obsession with podcasts. Something I'd been thinking about for a long time, but never thought it would ever be a tangible, real thing. I said: "I want to start a live, true storytelling show." I wanted to create something, anything, where people could be vulnerable and dare to speak their mind. Five months to the date [and in large part due to joining a free goal-setting and accountability group named AXEN Club] - on October 12, 2017, RAW Storytelling had its debut show.
Since then, my world has turned upside down in a serendipitous kind of way. RAW has become my life's passion along with my love for branding. When I'm not being RAW, I'm committed to using my 15+ years of experience in the entertainment, media, and design industry - including obtaining a Master of Fine Arts in Branding - to help entrepreneurs build brands they are proud to call their own. Oh - and all of this with some Puerto Rican flair sprinkled on top.
"The premier coffee experience in downtown Fort Lauderdale. Café Collective is housed in Collective Ventures, a creative and technology startup innovation center and free co-working community space."
Café Collective by Collective Ventures
It is thanks to the top-notch staff at Collective Ventures that RAW Storytelling runs as smoothly as it does month after month. They are so much more than our host venue. Brian Jacob and his staff embraces the RAW movement with such generosity and love that it brings us to tears. Our biggest fans and believers - we couldn't do this without you!
"The mission behind RAW is so important and I want to capture the realness of each live show so the universe can experience it as we do each month."
Arelis Aguayo - Dogs of Fun
Arelis is a dogs-only photographer and the artist behind Dogs of Fun. We're so incredibly lucky to have her moonlight as our event photographer. Her talent and amazing eye for great photography gives RAW its unmistakable look capturing those oh-so-human moments that make our live shows so special.
"Feeling truly grateful to be a part of RAW. I'm passionate about growing the Fort Lauderdale music scene and supporting local community and corporate events."
Juan Angarita - DJ Zondoz
If the mood at RAW's live shows is just right or if you love listening each month to our podcast, it's thanks to this man. Since the first live show, DJ Zondoz has volunteered his services with infectious positivity and professionalism. He's more than our DJ, he's family.
RAW Storytelling is a community-driven project that exists thanks to the generosity of people who believe in our mission. Here are some of our RAW Ambassadors.
FABIEL LOZADA - Podcast Editor